In the city of Doebeln you can find a horse tramway and a horse tramway museum.
The track of the  horse tramway is about 750 m long. It has the 1000 mm gauge.
It starts at the horse tramway museum and goes via Niedermarkt to the Obermarkt in the city centre.
The horse tramway museum explains the history of horse railways and horse tramways. There are many pictures, some models and a horse tramway model as well. 
The original horse tramcar Dresden 106 is in our museum since June 2019. It was built by Brill in Philadelphia (USA) for the Dresden tramway in 1886. It was rebuilt als trailer for the electric tramway in 1899.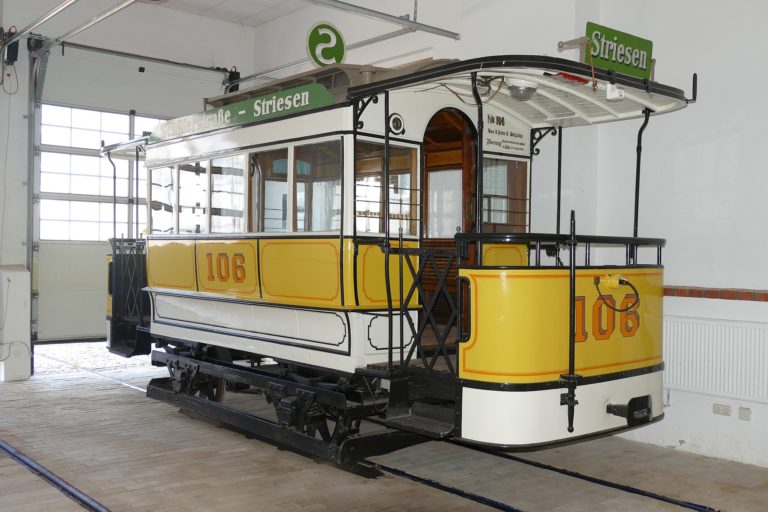 The horse tramway runs at the first Saturday of the month from May until October. The departures at the horse tramway museums are from  10.00 to 11.30 and from 14.00 to 16.30 depending on demand. One ride takes about 20 or 25 minutes.
The Horse Tramway Museum is open Tuesday to Friday 10.00 – 12.00 and 13.00 – 17.00,  at Saturdays 10.00 – 12.30 (except the first Saturday of the months May – October, when the horse tramway is running, at these days it is open till 17.00). The museum is closed on Sundays, Mondays and public holidays.
It is closed  at 24. and 31. December and in the first two weeks of January as well.
By car:
Motorway 14 Leipzig – Dresden to "Doebeln Nord" or "Doebeln Ost", from there to the city
or
Motorway  4 Chemnitz – Dresden to  Hainichen, from there on street  B169 to Doebeln.
By railway:
Take the train Leipzig – Doebeln (RB 110) or the train Elsterwerda – Riesa – Doebeln – Chemnitz (RB 45)
From Doebeln main station take the city bus routes A or C to "Pferdebahnmuseum" stop or the regional bus route 750 or 895 to "Koernerplatz" stop.
From Dresden by rail and bus:
Take the railway S1 for Meissen, alight at "Meissen" (the first stop in this city). Go to the Central Bus Station (about 5 minutes walk) and take the bus route 416 for Doebeln. Alight at Doebeln Central Bus Station (Busbahnhof).
Alternatively you can take bus route 424 Dresden – Nossen and change in Nossen Markt to bus route 750 for Doebeln. Alight at Doebeln Koernerplatz stop.